I feel like one of the best things I was able to get out of being raised by african parents was the opportunity to have actually lived in Africa. Although I haven't been to a great many of Africa's 54 nations, I've been to nine (Senegal, The Democratic Republic of Congo, Rwanda, Uganda, Burundi, Kenya, Mozambique, South Africa, and Swaziland) amazing ones. All of these countries, much like the rest of the continent are full of natural resources. Although often overlooked, Africa is brimming with amazing experiences just waiting to happen. So today, I'm taking you to Kenya. Here are five of my favorite must have experiences from "The Pride of Africa."

1. Adopt An Elephant...Or At Least Pet One
One of my favorite animals in the world is the elephant. I just think they're exceptionally majestic and wise. However, the sad reality is that they're being hunted for their valuable tusks. When poachers seek to extract the tusks from the elephant, they kill them. They literally kill the entire animal for two tusk. And because of the high demand for ivory, the elephant population has dwindled significantly. The David Sheldrick Wildlife Trust runs a rescue and rehabilitation program for the orphaned offspring of the elephants who have been killed for their tusks.
Going to the elephant orphanage in Nairobi is such an amazing experience. Much like the joy of watching an innocent child play in a backyard, the joy of watching baby elephants play in mud is heart warming. Knowing that had they not been rescued, they too would have suffered a similar fate as their parents once they reached maturity. That is, if they hadn't been hunted in their period of vulnerability first.
Another great thing about the elephant orphanage is that not only can you watch the baby elephants play and occasionally touch an interact with them, you can choose to adopt one! By adopting an elephant, for only $50 a year, you can contribute to its continued upkeep. And honestly, that's the very best part. I think we can all deprive ourselves of our much lusted after Steve Madden heels, to ensure that an elephant is looked after. You can read more about the elephant orphanage on the the David Sheldrick Wildlife Trust website.
2. Witness the Wildebeest Migration
The wildebeest migration is the largest single movement of an animal group in the world. From July to October, over 2 million wildebeest make the journey from Tanzania's Serengeti National Park, to Kenya's Maasai Mara National Reserve. Basically what I'm saying is girl, treat yourself to a safari.
Watching the wildebeest is frightening and amazing all at the same time, but being at Mara will put you at the heart of the home of some of the most beautiful animals in the world.
From aardvarks to baboons, to lions, zebras, giraffes, and rhinos. Check out all the animals you'll be able to see here. And yes, you'll even see a real live cheetah. Just don't bust out your cheetalicious ensemble. That's just not going to fly.
3. Lounge Around In Lamu Town
In 2001, Lamu became a UNESCO World Heritage site. A historic center of Swahili and Muslim studies, Lamu is one of the oldest and best preserved settlements in East Africa. Lamu town is actually located on Lamu Island. A lot of people don't actually know that Kenya has islands, but now you do!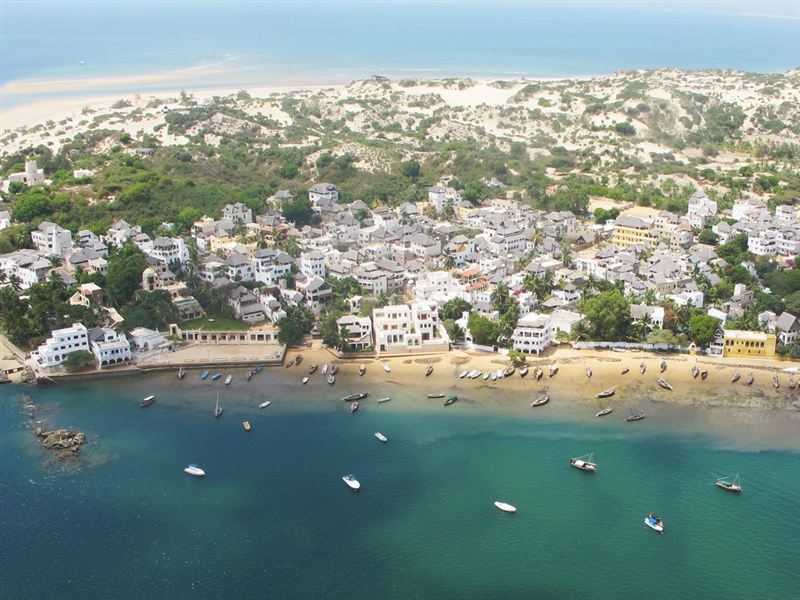 Do you see this?? Lounging around at the beach all day literally sounds like the best idea in the world. The relaxed vibe of the whole place is what makes it so enchanting. Time slows to a halt yet passes so fast when you're there.
4. Make It To The Gates Of Hell And Live To Tell The Tale
If you're more adventurous, go to hell. Hell's Gate National Park that is. In prehistoric times, a river flowed to the south of Lake Naivasha feeding the people of that region. Now, however, it's dried up and left in its wake a large crevice in the cliffs. This crevice is called Hell's Gate. If you're a hiker or enjoy bicycle rides, this place is definitely for you. It's also a popular spot for birdwatchers and photographers.
It gives vague Grand Canyon vibes, but the experience is definitely all-African.

5. Unleash Your Inner Tree Hugger at the Nairobi Arboretum
Also one for the hikers, the Nairobi Arboretum is a stunning display of African foliage. Founded a little over 100 years ago, it presents the most vibrant greens imaginable. Hiking through it, and breathing in the pure air, and learning about the different flora and fauna is truly a great experience.
***********************
There are tons of fun things to do in Kenya, but I just wanted to share my top 5.
What do you want to see?